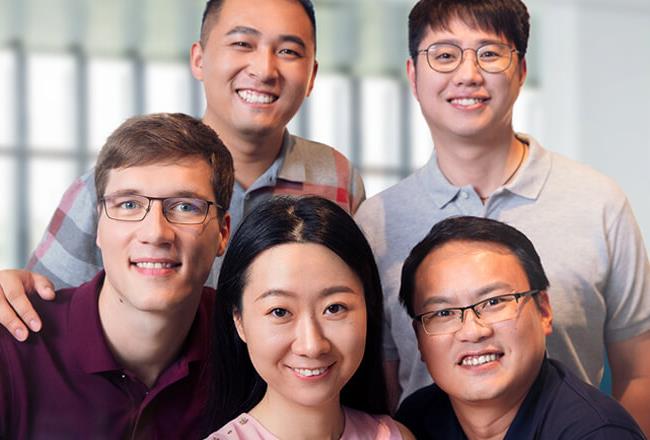 What's important to us – The values and benefits of Covestro China

Innovation is everyone and everywhere

We believe in accelerating innovation by opening up and collaborating with industry, academia and partners in the value chains. This collaborative spirit is one of the most important cornerstones of our philosophy and defines our mindset within the company.
It goes hand in hand with the value we put on sustainability with a strong emphasis on circular economy. All this helps us to push boundaries beyond what is possible today.
Chemistry on many levels
At Covestro, we want to create a working environment that lets our employees thrive. Be it because of our common endeavor to advance the topic of sustainability, our strong sense of community, which characterizes our collaborative efforts, or our openness and fairness, which begins with the support of young talents. Together, we focus on the development of innovative, sustainable solutions for products used in many areas of daily life.
The most important value: our employees
When joining Covestro China, you'll join a fair and transparent working environment that treats its employees with the utmost respect and is dedicated to foster your talent. It is not just about feeling and ease, but also about your development within the company in the long term.
We are especially proud to see when our endeavors in this field even receive official recognition. Covestro has been awarded Top Employer China by Top Employers Institute and Employer Excellence China by 51job since 2019. We've also been awarded as China Top 100 Most Attractive Employer by natural science students in China since 2020.
Working on a greener future
Developing future-driven technology and a focus on sustainability do not exclude themselves. Our Covestro Integrated Site Shanghai (CISS) is home to 11 plants with the latest technology, covering all major products that Covestro offers and serving industries including construction, automotive and electronics – always working on greener solutions.
CISS was granted the National Green Factory certificate by the Ministry of Industry and Information Technology in 2018 for its continuous efforts in using innovative processes that ensure greater sustainability in manufacturing.
Bright initiatives
Different ways of thinking, perspectives and ideas - this diversity is what drives us at Covestro China. It enables us to create innovative, inspiring solutions. Our initiatives with focus on equity, inclusion, sustainability and youth aim to support a colorful and versatile working environment.
Sustainability comes naturally to us
Covestro has set up an endowed chair in partnership with the UNEP-Tongji Institute of Environment for Sustainable Development for sustainability-related research topics such as circular economy, urbanization and climate change.
Furthermore, we are one of the cooperating entities for WOSL, an international non-profit organization committed to the goals set forth by the 2015 UN Sustainable Development Charter. WOSL's mission is to educate the next generation of youth leaders and inspire change through a unique pedagogy that includes self-directed inquiry and first-hand experience performing international engagement in the rural and developing world.
We want to create an inclusive working atmosphere and active exchange, regardless of your gender. We strive to better address the issues of our employees (be it male or female) and adapt our global corporate culture accordingly.
To make good on this promise Covestro China has officially become the exchange center for sHero. This initiative is an advocate, thought leader, and expert for Women's Leadership, Diversity & Inclusion, and the Future of Work. Covestro China has also been awarded as Excellence in Women's Leadership Development by 51job in 2021.
Building bridges between generations
Covestro China is one of the Practice Bases for the Shanghai Youth International Exchange Center. Through various exchange activities such as culture, art, sports, tourism, education and training, the center aims to create a comprehensive international exchange platform for youth to build a bridge of culture, a bridge of friendship and a bridge of peace for youth in Shanghai and all over the world.
Covestro also established the Covestro-Tongji Innovation Academy with Tongji University, aiming to explore and promote innovative industry-academia cooperation which focuses on industrializing innovation outcomes in the areas of mobility and construction, as well as providing education and talent development programs in related fields.
In China, we offer students a unique vocational training opportunity in partnership with the Shanghai Petrochemical Academy (SPA). We've invested EUR 1 million in a modern laboratory, pilot plant and pipe assembly workshop in Shanghai and we offer classroom training as well as on-site practical training. The four-year program will help get you prepared to join our team of frontline operators and mechanists.
Recognition through benefits
Being treated fairly and transparently is the feeling we want our employees to have. At Covestro China, this means financial security, a healthy work-life balance and appealing social benefits. No matter at which location you work for us, we offer you, among other things:
Compensation wise: a nice cushion
When working with us you should never feel in the need of anything. That's why we have implemented a yearend bonus and a merit increase. Employees that have been with us for a long time will receive a long-term incentive that is equivalent to the time working at Covestro China. We also offer a profit-sharing program, an individual performance award, employee virtual shares and more.
Benefits wise: security and time for you
We see ourselves not only as an employer, but also want to enable our employees to create an optimal balance for themselves. Together, we develop working conditions that are flexible and work with your individual needs. From social insurance and housing, to annual leave, Christmas holiday, sick leave and an extra day for the Spring Festival, to health checkups, EAP (employee assistance program) and our travel policy – we've got your back.
It's the people that count
It is important to us to continue to develop innovative processes and solutions with the best talents and experts - collaboratively and sustainably. Do you see yourself working in such an environment? Then we look forward to getting to know you.