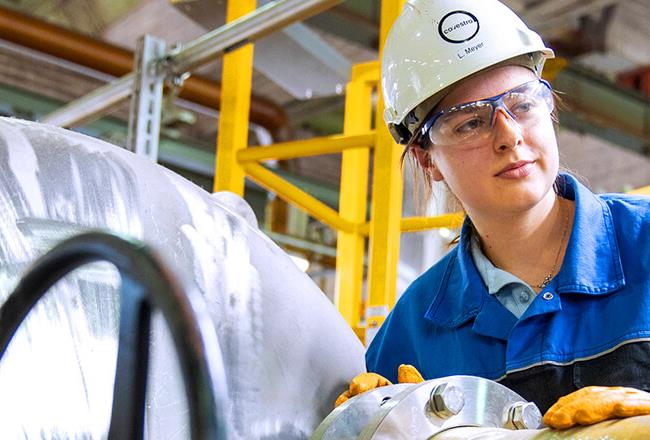 Comprehensive corporate policy
Safety is part of Covestro's DNA
Covestro wants to push
the boundaries of what's possible
in the chemical industry. The company has established comprehensive guidelines for achieving its ambitious goals. These relate to four key topics: health, safety, environment, and quality (HSEQ).
All of our employees – including the Executive Board and site management – are committed to drive continuous improvement and to achieve excellence in the HSEQ areas. Covestro considers the guidelines as an important building block in reaching its corporate goals. Adherence to processes is regularly verified through internal and external audits.
Covestro improves the quality of the health benefits provided for employees regularly, while encouraging awareness of healthy lifestyles. The company also sets itself high standards with regard to its own products and processes, which should not pose a risk to health at any time.
The comprehensive safety management and the distinct safety culture are cornerstones of Covestro's corporate responsibility. Covestro distinguishs three main fields: personal safety, process safety and product safety. The company strives to reduce the total number of recordable incidents to zero, grant the secure and reliable operation of its plants, and ensure the safe use of its products at all times.
Covestro signs responsibility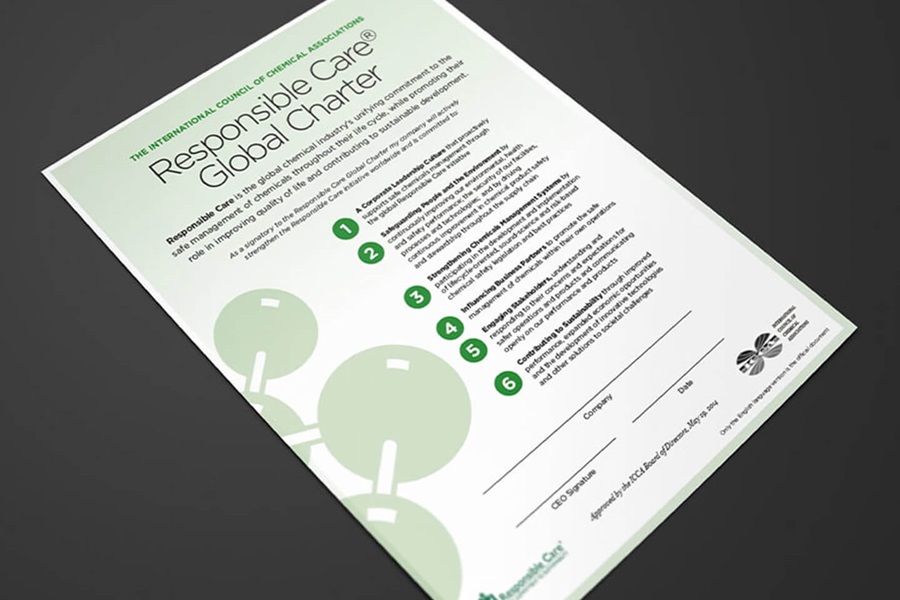 Covestro has signed the Responsible Care® Global Charter. It is an worldwide initiative of the chemical industry. Companies who join the charter are committed to achieve excellence in the HSEQ areas. In order to drive continuous improvement, Covestro is working with government agencies and other partners in voluntary cooperation. They are intended to supplement legal requirements. In addition to Covestro, many other German companies have signed the charter.
Covestro Safety and Health Day sharpens senses for greater safety
Every year, the Covestro Safety and Health Day takes place – a worldwide day of action around the topics of safety and health. In 2022, after an enforced break due to the pandemic, the event was finally held on site again. Under the motto "STAY FOCUSED. STAY SAFE.", all German sites offered a wide range of information and various hands-on activities. Visitors could, for example, put their sense of balance to the test at the smombie parcours or test their reflexes on the reaction wall.
The Covestro Safety and Health Day traditionally also offers a view beyond the horizon. Experts from various industries provide interesting tips and tricks about safety. Covestro also recognizes outstanding safety performances by partner companies. This year, the "Contractor Safety Award NRW 2022" went to HOLM GmbH Montage and Process Control Technology in Bochum, which impressed the jury with its particularly good health protection performance and very good overall safety performance.
Safety policy sets standards for German sites
Uniform guidelines, such as for process safety, provide the framework for a secure and reliable operation of the company's plants. Therefore, they are essential to protect people and the environment. This is why Covestro has taken all the necessary precautions in Germany at its sites in Leverkusen, Dormagen and Krefeld-Uerdingen as well as in Brunsbüttel, Meppen and Bomlitz.
The foundation for safe operation is laid during the planning and construction phases – for instance, by the selection of processes, the layout of machinery and equipment, and the use of suitable materials. The processes are analyzed by experts in multi-stage risk assessments later on. The aim is to identify potential deviations or disruptions and develop the appropriate safety plans.
Local safety guidelines in chemical and industrial parks
Just as at all other Covestro sites, existing facilities in Germany are continuously monitored and maintained. The primary reason for this is that production plants need to keep pace with technological advances at all times – a prerequisite to improve their level of efficiency and sustainability.
However, the company's own safety management system is only one level of a complex concept. As part of chemical and industrial parks, Covestro also incorporates a series of additional local safety guidelines:
Safety at the three Chemparks in North Rhine-Westphalia
Covestro's sites in Leverkusen, Dormagen and Krefeld-Uerdingen are located in chemical parks. They each have a uniform emergency response concept, ensuring the same safety standard across local companies.
The site fire brigade, which is managed by the chemical park operator, plays a prominent part in the emergency response concept of the Chempark. The brigade is specially trained, has outstanding technical equipment at their disposal, and is available to all local companies around the clock. It cooperates closely with the authorities and Covestro departments. This ensures a rapid exchange of information and effective intervention in the case of an emergency.
Safety at the Covestro Brunsbüttel Industrial Park
As the operator of the Brunsbüttel Industrial Park, Covestro is focusing on clear priorities: process safety, the well-being of its employees and neighbors, and environmental protection. This is why the site fire brigade is on call around the clock. In addition, technical equipment is inspected regularly.
Brunsbüttel has established a clear safety philosophy: every production plant, every process, every work stage is systematically analyzed for potential hazards. This approach prevents possible incidents before they occur. At the same time, all employees are trained in regular exercise sessions on how to respond in case of an emergency.
All steps are documented in a common emergency response concept. The individual steps have been approved by local authorities.
Safety at the Walsrode Industrial Park
Covestro's site in Bomlitz is part of the Walsrode Industrial Park. The Industrial Park agrees that personal safety and environmental protection are top priorities. This is why the local companies have set themselves very high standards – particularly in terms of occupational safety, health and environmental protection. In some cases, the commitments even go well beyond the legal requirements. All guidelines are outlined in a clearly defined schedule.
Safety at the Covestro Meppen site
The Meppen site is actively committed to protecting people and the environment. To ensure a safe production process at all times, the safety culture is continuously developed. This includes areas such as health, safety and environmental protection. The aim is to always meet the increasing requirements for the safe operation of production facilities.
In addition to its health and safety-related activities, Covestro is working to further improve its sustainability footprint. Thus, the company is making a key contribution to global climate and environmental protection. One of its top priorities is leveraging innovative technologies and processes to ensure that valuable resources are used more efficiently. These innovations have helped to reduce consumption of raw materials and energy and to sink emissions.
Moreover, Covestro sets high standards for the quality of raw materials and their further processing into high-tech materials. The company wants to continuously improve its products so they can last for as long as possible. Covestro has outlined this vision in its Circular Economy strategy.